The comfiest college send off for seniors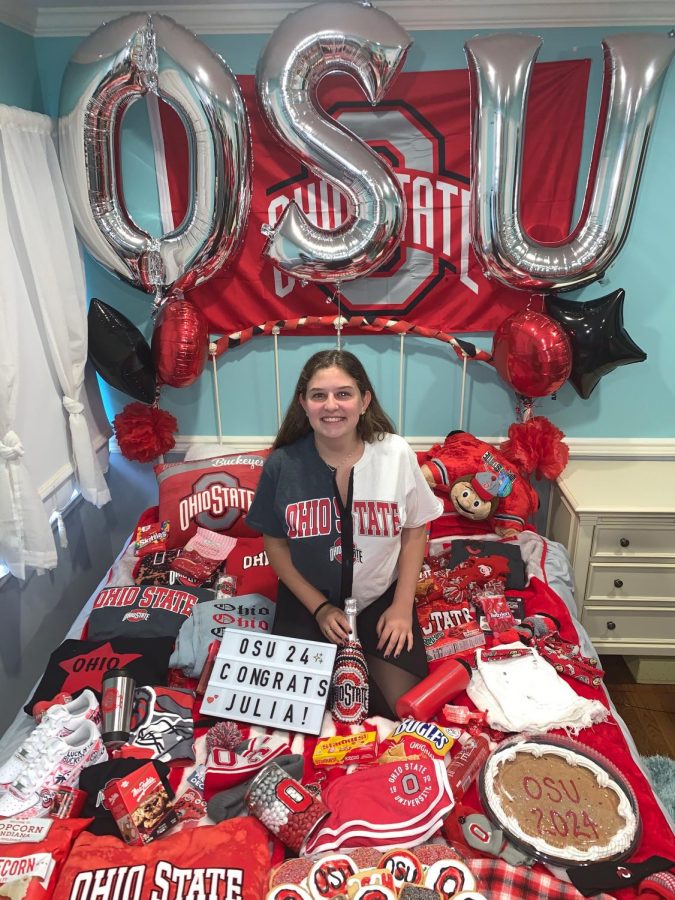 By Gabrielle Kesh, Managing Editor
February 28, 2020
As the class of 2020 starts making college decisions, their friends are ready to celebrate by surprising them with their bedrooms decked out in their university spirit. T-shirts, cakes, balloons, galore are just a few of the many items that are included in the celebration. 
To pull this fun surprise off, there is a lot of secretive planning that goes into place. Typically, students will coordinate with their friends' parents to pick a date and time that their friend will be available. After the date is picked, the group chat starts blowing up trying to coordinate where everyone will be showing up and what they will be bringing. The overall planning takes about two weeks to coordinate, and setting up the friends bed on the day of takes about 45 minutes. Sometimes friend groups will all split up by assigning some people to pay for clothes while others pay for snacks each time one of their friends makes a college commitment. Other times, friend groups will each be assigned one person and be responsible for spending a set amount of money once.
"My friends decided that everyone gets one person and we pay a set price," senior Francesca Apito said. "This makes the process a lot easier because collecting money for every bed would be such a hassle."
"My friends are all buying something for each bed and paying as we do them," senior Laura Knodel said. "Everyone is able to contribute something this way."
While many students appreciate the idea of the bed decorating and see it as an incredibly nice gesture, others are concerned that it is becoming too extreme. For social media purposes, some people order an excessive amount of decorations for their beds to be as decked out as possible. Students are concerned that the purchasing of so much college inspired gear takes away from the sentiment and meaning of the activity. 
 "Some people take their bed decorations to an extreme and unnecessary level," senior Amy Grunther said. "It is a very cute tradition in moderation."
As the school year comes to an end and more students continue to announce where they will be spending their next four years, the bed decorating tradition will continue as well. They are a way for friends to be apart of one another's college journeys and do something special before they move on to the next stages of their lives. 
"I'm gonna be sad to leave my friends," senior Grace Gates said. "But the bed decorating is a great last activity before we all say goodbye."