40 year woodshop teacher awarded Teacher of the Year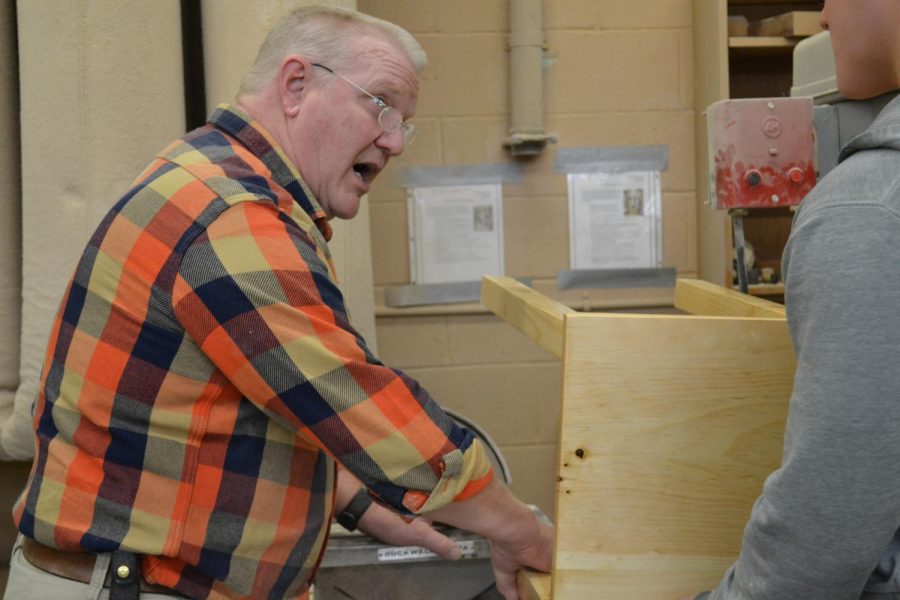 Each year at West Essex, the school recognizes teachers who go above and beyond and awards one the title Teacher of the Year. Woodshop teacher Lee Oberg, a favorite among students for his easy-going personality and hardworking mindset, was awarded the honor this year.
Oberg has been an educator for 41 years, spending 40 with West Essex. He teaches five different courses, all involving woodshop. This is a bittersweet year for Oberg, as he is retiring after spending decades with West Essex. Oberg said retiring gives him more freedom to travel and visit his children and grandchildren, some who live across the country. 
"I have mixed feelings, for sure," Oberg said. "This has been my professional home for decades, so I will miss that and the people that I work with. I am anxious, though, to start the next chapter."
Winning Teacher of the Year allows all students to recognize Oberg's teaching abilities throughout his many years here at West Essex. Oberg hopes his legacy is not so much about him, but more about the skills he taught to his students throughout the years.
"I hope they remember the skills they learn here because we are trying to make well-rounded people out of the students, who are not necessarily going to have one occupation or another, but people who will own a home someday," Oberg said. "It is nice to have a general sense of how to work with tools and how to use materials to accomplish what they need. I really hope that is what they remember."
Oberg said some of his favorite memories from teaching are when students go above and beyond after understanding how to use the tools and when parents come back and remember him as a teacher or what they did in his class. Oberg's style of teaching is to ensure students feel more confident in their abilities as the time passes, to the point where they can do it on their own.
"I tell students this all the time, the whole idea of being here is or you to be able to do this without me," Oberg said. "When students begin to learn what the machines do and what they are used for, they can function without me, that really is what I am aiming at."
Teacher of the Year is decided by other teachers in the district, indicating the level of respect and admiration Oberg's coworkers afford to him. 
"It is very encouraging and affirming to have the people that I work with recognize me in that way," Oberg said. "Especially since this is a non-academic area and we tend to kind of get lost in our own world down here in the 100's Arts wing, so it is very nice to be recognized that way by my colleagues."
Behind the Byline
Jennie Lathrop, Art Director
Jennie loves the beach, being tan, sleeping, and food. Her favorite type of food is Italian. She loves pasta. Her favorite shows are "Jersey Shore" and "Rick and Morty." Jennie wants to move to Italy when she is older. She loves dogs and babies.