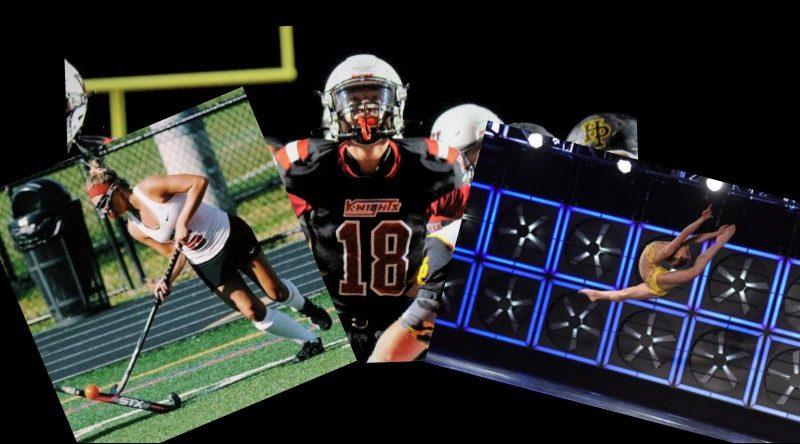 The whistle blows. "Again," says your coach. The music stops. "One more time," says your dance teacher. Your eyes roll, you groan and moan, but nonetheless, you line up one more time. You get back on the floor. You do the extra rep, run the extra sprint, but why? Why do you sacrifice your time? Why do you go the extra mile? Why do you play?
"I play now because I've made a lot more friends playing football, and we've stuck with each other since we all started," senior football captain Nick Ciaglia said. "And if I didn't play, I think that friendship would have faded rather than become stronger."
Across every sport, hobby or extracurricular activity, an emphasis is placed on stats, records and overall performance. There is a tendency to look at the final product, rather than its prototype. At times, the prototype holds a deeper meaning to an athlete. For senior field hockey captain Emily Holleuffer, the sport has given her more than just a state championship jacket.
Holleuffer said one of her favorite parts is having the opportunity to "play with a whole team of my best friends."
Practicing and playing a sport everyday with people that are considered family can make the season truly special.
To many people, dreams of winning a state championship, a national championship or even getting a college scholarship seem lucrative or even outrageous.
Few people understand why athletes commit every minute of their free time to their craft. Outsiders find the routine of 'eat, sleep, play and repeat', overbearing or over-the-top. The likelihood of making it to the pros or to the top of the podium is, at times, slim.
As masters of their craft, it is the art or sport that becomes a part of a person's identity. Athletes start out because it's the thing to do or their friends play. Time progresses, and soon they find themselves doing it for a whole new reason. But what exactly is that reason?
"Why do I dance?" sophomore Angelina Velardi said. "Because it's just what I like. It's literally what I do. I look at myself, like I'm a dancer. I classify myself as a dancer now. In the beginning I wanted to be a dancer. But now, I feel like I'm a dancer. And I'm going to do this in the long run. So that's why I'm doing it."