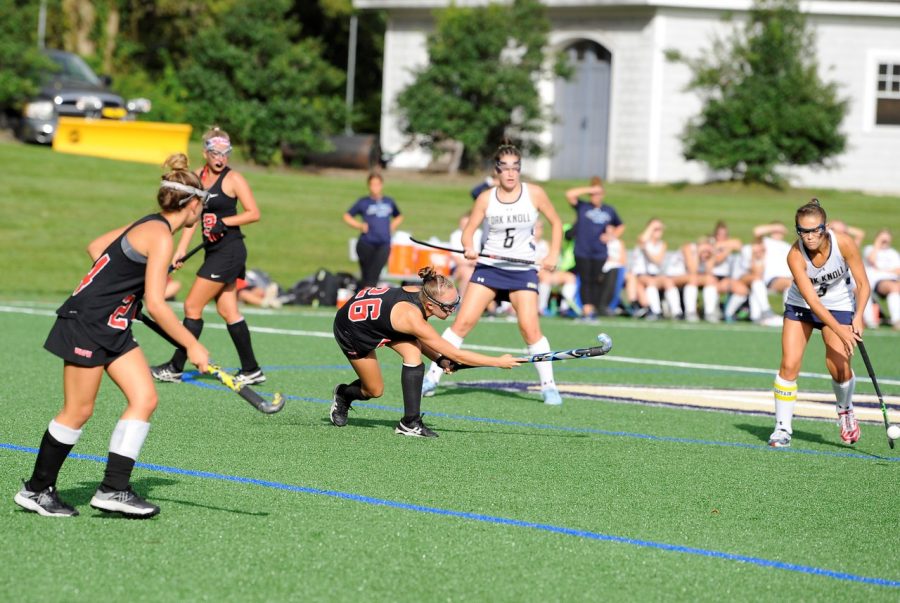 There's a certain pivotal moment in an athlete's high school career when they make varsity. It's a cumulation of hours and months of beating at their craft and developing their skills. Earning a coveted spot on varsity is like winning the lottery for athletes.
For freshman field hockey player Halle Aschenbach, making varsity this preseason was the best way to commemorate the work she put in this offseason.   
"I have been working all summer between the gauntlet and just stick skills," Aschenbach said.
Halle is one of 3 freshmen starting on the varsity field hockey team, who in recent years has become a powerhouse in the state of New Jersey. Year after year, players show up in August, ready to show the coaching staff that they fit the criteria to earn a coveted spot on varsity.  Halle, along with her fellow freshmen teammates, were the few that met the meticulous philosophy of head field hockey coach, Jill Cosse. Coach Cosse, who is in her twenty-second season at the helm of the field hockey program, is constantly looking for a mature but aggressive style of play.
"In order to make varsity as a freshman – an athlete really has to possess an abundance of natural ability and skill," Coach Cosse said.  "They have to be doing things during their play that show a command of the skills of the game, but also play athletic and aggressive and mature."
Athletes train year round to ensure that they earn their spot on the team. Whether it's doing speed and agility or hitting the weight room, players are constantly looking for that edge. But for head girls soccer coach Ally Decker, it all comes down to the nitty gritty.  
"My philosophy in regard to players making varsity, playing or starting varsity is simple – I don't care what grade you are. If you prove yourself then the spot is yours," Decker said. "As we have more success, the bar gets raised a little higher every year, therefore, we are looking for players who can bring more to the table."
An abundance of talent in recent years has propelled the girls soccer team to success. In 2017, the team reached the second round of the state tournament, a historic feat for the program. As the program continues to grow, the competition to make varsity has become more competitive.
Molly Simon was one of the few freshmen to make varsity soccer this year. She worked all summer to make the cut and is looking forward to setting new goals for next season.
"To help the team in any way I can, to maybe get a starting spot by the end of the season, if not then to score more goals."  Simon said.
The state of New Jersey is known for its high caliber high school sports. Every year, teams rise from the ashes and fall from grace. The margin for error is extremely small, but the high intensity of sports has made it more difficult for incoming freshman to make varsity.
"I think in many ways – it is easier, the kids here know what to expect," Cosse said. "The skills however take time, and with practice and perseverance they will come. If athletes do not want to work and grind it out, then this is not the program for them."
In making varsity as a freshman, an athlete is not only facing the challenges on the field, but also off the field. Kids also are making the jump from middle school to high school. For varsity field hockey captain Ellie Decker, the transition was made easier by the upperclassmen her freshman year.
"They really looked out for me, always asking me if I was okay, on the field and off the field." Ellie said.
Ellie is one of the program's top players, and a four year starter, she knows the program like the back of her hand. In making varsity as a freshman, she was able to see improvement in her play as well as her leadership skills. Decker, a Columbia field hockey commit,  credits the intensity of the program and the knowledge level of her coaches in preparing her for the collegiate level.
"Having the older grades around me made me better because they have learned from past experiences, so I was able to learn from them and they really took me under their wing and made me a better player." Ellie said.  
It is possible that an athlete might improve their skills from being around the upperclassmen. However, in taking a freshman to varsity, there is always a certain risk.
"The experience factor. Since freshmen have never played high school soccer, they do not know what to expect," Decker said. "By the end of the season, they usually gain that experience, but it takes a little bit of time."
Freshmen are like any other athletes and work just as hard, if not harder than their fellow teammates on. They have to prove to everyone that their coaches made the right decision. It's a process, but it's worth potentially everything if they earn a spot that they know that they worked for.