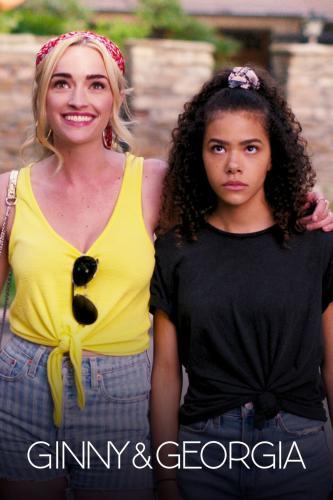 Mother-daughter relationship stories have been seen countless times throughout television but "Ginny & Georgia" takes this concept to a whole new level. With love triangles, backstabbing, deceit and even murder, "Ginny & Georgia" is definitely not your average mother-daughter bond story.
The 10 episode drama series follows Georgia (Brianne Howey) and her daughter, Virginia (Antonia Gentry). The first episode begins with Georgia moving her and her two kids, Ginny and Austin (Diesel La Torraca), to a small town in Massachusetts after the recent death of her husband (Ginny and Austin's stepfather).
The 'mom and daughter that are more like sisters' mimicry can be traced back to the classic WB drama "Gilmore Girls". Similar to Lorelei on that show, Georgia had a bad relationship with her parents her whole life, and chose to raise her daughter on her own while she was a teenager. The love interests and love triangles in "Gilmore Girls" even juxtapose those in "Ginny & Georgia". Both Lorelei and Rory in "Gilmore Girls" have two guys that they need to choose between. For example, Christopher, Rory's dad, is similar to Zion, Ginny's dad, in the way that both Georgia and Lorelei always reconnect and then disconnect with them. Even the mother-daughter relationships are similar in both series because Ginny and Rory are smart, sensible and loyal, while Loreli and Georgia go with the flow and are more of a wild card. In addition to character comparison, the double G titles and the direct mention of "Gilmore Girls" in the series proves that the connection between the two is undeniable. 
But the two shows differ in drastic ways, notably in how "Ginny & Georgia" draws upon intense and heavy societal issues. Abuse, sexual assault, racisim, self harm, rape and body dismorphia are just a few of the major topics brought to light throughout the single season. Viewers are sent back in time at different points to see Georgia's back story when she herself was 15 (Ginny's current age), giving viewers some context and history for her tough facade and 'everyone for themselves' mentality. Georgia's life motto that she was told at 15 stuck with her: "You win more flies with honey, but if you get yourself a bee, sting first!"
"Ginny & Georgia" was released on Feb. 24 and took the No .1 spot on the Netflix top 10 list on Feb. 26. On March 6, Ginny & Georgia reached their ninth consecutive day in first place. While six other programs have seen at least seven straight days in the number one position so far this year, "Ginny & Georgia" is the first to stretch beyond that number. "Ginny & Georgia" has remained in the top 10 list on Netflix since Feb 26. and as of today, March 31, it is still high up resting at the number four spot.